Children's House Montessori School, Atascadero, elementary students, hosted the upper elementary students from
Montessori Children's School
, San Luis Obispo for a kickball game. Coach Sam took this group photo. A fun time was had by all!
Our Parent Education Evening #2 was a great success. Thank you so much to everyone who attended.

In keeping with our every-other year tradition, our 3rd-6th level students performed the play, "The Life of Maria Montessori". They did an excellent job of presenting her life from childhood, to being the first woman doctor in Italy, to her first school in 1907 and finally to her exile from Italy during WWII. All that in 20 minutes! If you haven't seen it, don't miss it when it is performed again two years from now.

After the performance, our staff talked about some of the many characteristics of a Montessori environment from Toddler through Upper Elementary and the developmental theories behind the Montessori philosophy. We also talked about how to make the home environment more consistent with what is successful for the students at school. If you were unable to attend, but would like a hand-out, we have some available here. We hope to see you all here for our Parent Education Evening #3 on December 5, when we will talk about Dr. Montessori's vision for what she called her Cosmic Education.




Yesterday was Halloween, but at Children's House it means something more...Historical Person Day! Every year, on October 31, our upper elementary students dress up as a person from history, living or dead. Before the big day, the children research and write a report about the person they have chosen. On the 31st, they present a short, first-person speech, in costume, to parents, classmates and staff. The life stories they tell are sometimes heart-wrenching, sometimes hilarious and always thought provoking. We ALL look forward to this day.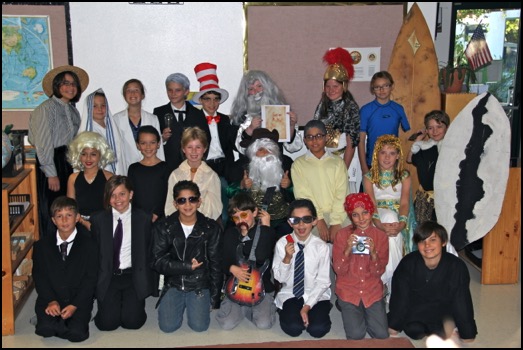 This year, we were so proud of and entertained by this illustrious group:
FRONT ROW, left to right:
John D. Rockefeller, Jr.
(Ruysser),
Steve Jobs
(Anne),
James Dean
(David),
John Lennon
(Landon),
Ole Kirk Christiansen
(Houston),
Dorothea Lange
(Marina),
Bruce Lee
(Jamie)
MIDDLE ROW:
Marilyn Monroe
(Olivia),
Martha Graham
(Sophia),
Marie Curie
(Vivian),
Vasco da Gama
(Antonio),
Bill Gates
(Orion),
Cleopatra
(Ashley),
Shaka Zulu
(Zachary)
BACK ROW:
Beatrix Potter
(Teddy),
Mother Teresa
(Season),
Ivan Pavlov
(Paris),
Thomas Edison
(Brayden),
Dr. Seuss
(Ethan),
Leonardo da Vinci
(Trey),
Pallas Athena
(Aspen),
Bethany Hamilton
(Emma)