Yesterday was Halloween, but at Children's House it means something more...Historical Person Day! Every year, on October 31, our upper elementary students dress up as a person from history, living or dead. Before the big day, the children research and write a report about the person they have chosen. On the 31st, they present a short, first-person speech, in costume, to parents, classmates and staff. The life stories they tell are sometimes heart-wrenching, sometimes hilarious and always thought provoking. We ALL look forward to this day.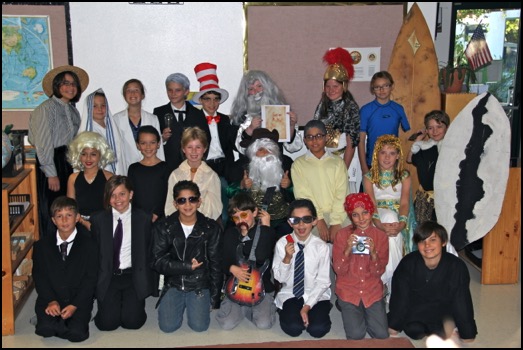 This year, we were so proud of and entertained by this illustrious group:
FRONT ROW, left to right:
John D. Rockefeller, Jr.
(Ruysser),
Steve Jobs
(Anne),
James Dean
(David),
John Lennon
(Landon),
Ole Kirk Christiansen
(Houston),
Dorothea Lange
(Marina),
Bruce Lee
(Jamie)
MIDDLE ROW:
Marilyn Monroe
(Olivia),
Martha Graham
(Sophia),
Marie Curie
(Vivian),
Vasco da Gama
(Antonio),
Bill Gates
(Orion),
Cleopatra
(Ashley),
Shaka Zulu
(Zachary)
BACK ROW:
Beatrix Potter
(Teddy),
Mother Teresa
(Season),
Ivan Pavlov
(Paris),
Thomas Edison
(Brayden),
Dr. Seuss
(Ethan),
Leonardo da Vinci
(Trey),
Pallas Athena
(Aspen),
Bethany Hamilton
(Emma)