A week or so before the Thanksgiving break, I took a few photos of the early elementary, level two and level three students, playing the Barter Game. First they read "The Story of Money" and answered questions about what they learned from the book. The book explains how bartering was the stepping stone for money. They learned about need vs want and how they can trade something they have in excess for something they need or want.
They are given guidelines about what their village needs and they determine trade quantities for the different items. They used chips of different colors to represent different Goods; white chips = vegetables, red chips = meat, skins and wool, blue chips = tools, etc. Black chips represent different Services, such as village defense and cultural enlightenment (art & paintings or performances).They set up their "shops" and then traded away. ~Dana

Our jog-a-thon fundraiser is today from 1:30 - 2:30 p.m. This year, kindergarten and elementary students will run to raise money for the El Camino Homeless Organization. In November 2010, the weather certainly did not dampen their spirits, as they ran in the soaking rain and slippery mud. Last year, jog-a-thon students ran a total of 3,375 laps! Since each lap is approximately 800 feet, more than 500 miles were pounded out that day, and the school donated more than $6,000 to a charity similar to ECHO.

ECHO was recently informed, they will have to move out of their current location by May 2012. A donation to ECHO, of $5, provides three meals and a warm bed for a man, woman or child for one night.

The Atascadero News gave us a Shout Out in Wednesday's paper. See page A-7.



Yesterday was Halloween, but at Children's House it means something more...Historical Person Day! Every year, on October 31, our upper elementary students dress up as a person from history, living or dead. Before the big day, the children research and write a report about the person they have chosen. On the 31st, they present a short, first-person speech, in costume, to parents, classmates and staff. The life stories they tell are sometimes heart-wrenching, sometimes hilarious and always thought provoking. We ALL look forward to this day.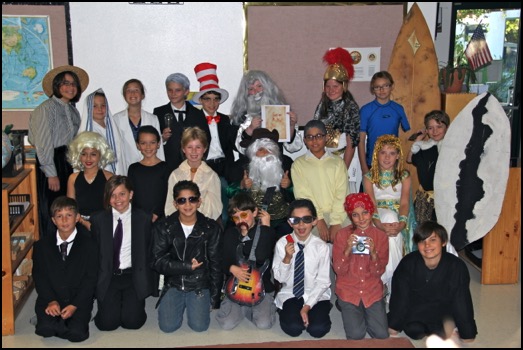 This year, we were so proud of and entertained by this illustrious group:
FRONT ROW, left to right:
John D. Rockefeller, Jr.
(Ruysser),
Steve Jobs
(Anne),
James Dean
(David),
John Lennon
(Landon),
Ole Kirk Christiansen
(Houston),
Dorothea Lange
(Marina),
Bruce Lee
(Jamie)
MIDDLE ROW:
Marilyn Monroe
(Olivia),
Martha Graham
(Sophia),
Marie Curie
(Vivian),
Vasco da Gama
(Antonio),
Bill Gates
(Orion),
Cleopatra
(Ashley),
Shaka Zulu
(Zachary)
BACK ROW:
Beatrix Potter
(Teddy),
Mother Teresa
(Season),
Ivan Pavlov
(Paris),
Thomas Edison
(Brayden),
Dr. Seuss
(Ethan),
Leonardo da Vinci
(Trey),
Pallas Athena
(Aspen),
Bethany Hamilton
(Emma)